Refrigerated – premium efficiency
Nirvana Cycling Refrigerated Dryers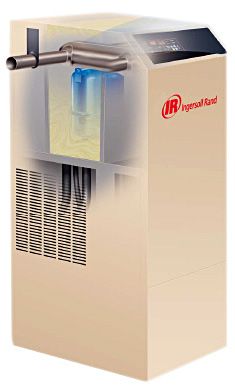 Ingersoll Rand's Nirvana Cycling Refrigerated Dryer provides reliability like no other dryer in its class: reliability that you can count on to protect your air system day in and day out; reliability built in by design.

Request a quote
The most reliable, the most energy efficient
The Nirvana is a genuine cycling dryer, incorporating innovative features that make it not only the most reliable, but the most energy efficient, dryer in its class. The key element central to the Nirvana's reliability and energy efficiency is its distinct, patented heat exchanger design. Providing high heat transfer with low pressure drop because of uniquely short flow length, the Nirvana heat exchanger presents a flow area three to five times that of an equivalent copper tubing exchanger, and it is self-cleaning, which greatly reduces the potential for fouling.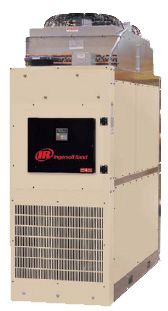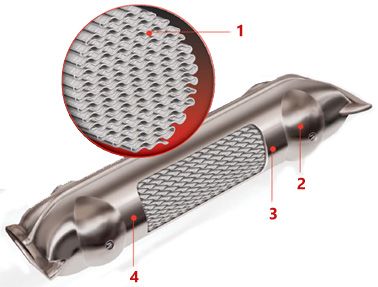 High heat transfer at work
1 – An innovative corrugated and folded stainless steel panel is stacked inside two stainless steel shells, then welded together to form a unitized heat exchanger. This design ensures reliability through the elimination of dissimilar metals or tube in tube chaffing, which is a common cause for heat exchanger leaks and failures.

2 – 100% stainless steel construction permits optimal heat transfer, resulting in a consistent pressure dew point.

3 – Nirvana dryer's heat exchangers combine a high heat transfer coefficient with unmatched low pressure drop.

4 – Corrosion-resistant 304L stainless steel is used in all the Nirvana dryer's heat exchangers, providing durability in environments unsuitable for copper or other metals.
Energy-efficient design
An advanced cycling dryer, the Nirvana provides significant savings because it does not waste energy costs through continuous operation of its refrigeration system, as do traditional non-cycling dryers
Design includes a refrigeration system combined with a thermal mass that efficiently stores cold energy.
Refrigeration compressor cycles off during periods of reduced load, while dryer continues to remove moisture and contaminants from the compressed air.
Unique centrifugal separator design provides effective moisture separation maintaining consistent dew point, regardless of partial load operation.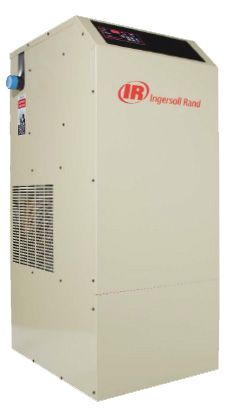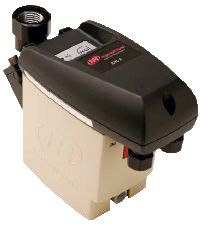 Electronic no air loss (ENL) drain
Nirvana cycling dryers up to 2,400 SCFM are equipped with ENL condensate drains, which eliminate venting of compressed air to the atmosphere and are more reliable than traditional float- or solenoid-type drains.
Best in class design
The Nirvana cycling dryer uses centrifugal separation to remove moisture from the chilled air. Separation occurs at the coldest point in the system by means of centrifugal acceleration, then expands into an area of low velocity containing a sump, and change of air flow direction. The result is highly-efficient moisture removal, providing exceptionally dry, clean air under all operating conditions.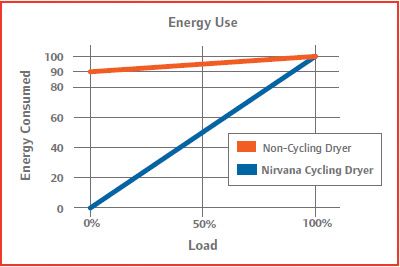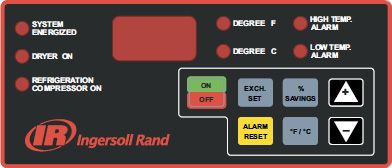 Microprocessor controller
The easy-to-use controller automatically manages dryer operation for optimum air treatment and for maximum energy efficiency.
Simple and easily read interface with LED indication
Digital display of chiller temperature available at a glance to ensure optimal dryer performance
Percent of energy savings available at the touch of a button
Automatic dryer restart in the event of a sudden loss of power
Adjustable chiller temperature set point to further reduce energy expense
Microprocessor control constantly monitors dryer functions including thermal mass temperature and provide alarms to minimize dryer downtime