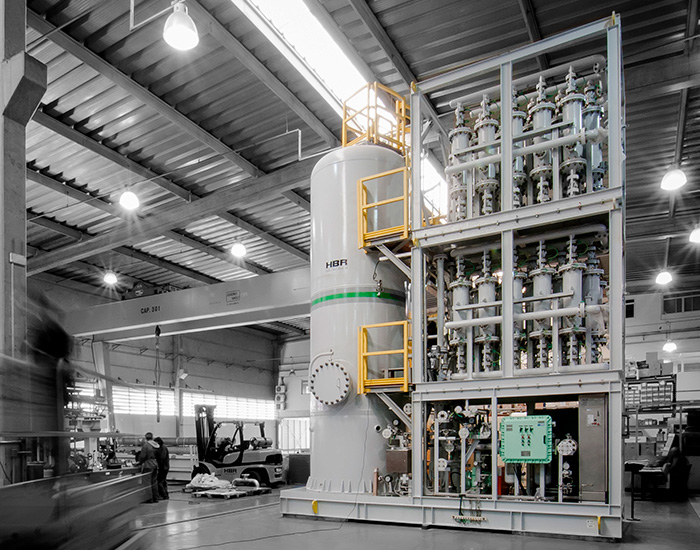 For all industrial segments, HBR solution for on-site nitrogen generation brings valuable economic and purity control advantages. Applying PSA or MEMBRANE technology, our systems are ultra-compact and fully mounted and integrated on skids.

With HBR Purity Control System, ideal for Petrochemical and Oil & Gas industries, our customers are able to produce nitrogen meeting in the most varied levels of purity (up to 99.99%) with total control during operation.

When compared with delivered N2, on-site production can also represent a reduction up to 90% in the cost of the cubic meter of nitrogen. The nitrogen produced on-site is owned by your company, with total cost control and without logistic interference.
Offshore and onshore
Pressure: 5 to 200 bar
Flow: 5 to 5000 Nm³/hr
Purity: up to 99,99%
Membrane or PSA technology
PLC control panel
Prepared for lifting
Operation in hazardous area




95% Purity
98%
Model

Number of Membranes
N2 production
m3/h
Air Consumption
m3/h
N2 production
m3/h
Air Consumption
m3/h
GN2-01-M1
1
2,6
5,8
1,3
4,4
GN2-01-M2
2
5,2
11,6
2,6
8,8
GN2-01-M3
4
10,4
23,2
5,2
17,6
GN2-02-M1
1
28,1
63,0
14,3
47,0
GN2-02-M2
2
56,2
126,0
28,6
94,0
GN2-02-M4
4
112,4
252,0
57,2
188,0
GN2-02-M8
8
224,8
504,0
114,4
376,0
GN2-03-M1
1
178,0
399,0
90,0
293,0
GN2-03-M2
2
356,0
798,0
180,0
586,0
GN2-03-M3
3
538,0
1197,0
270,0
879,0
GN2-03-M4
4
712,0
1596,0
360,0
1172,0
Pricing and Availability