Nirvana Oil-Free Air Compressor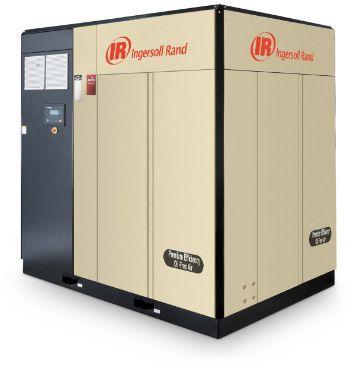 Nirvana Oil-Free air compressor, with a matching standard variable speed inverter and HYBRID PERMANENT MAGNET MOTOR coupled with a time-proven, oil-free, compression module, represents a stunning advance in compressor technology. The Nirvana Oil-Free rotary compressor provides unparalleled energy efficiency at all speeds and offers superb reliability. There are no motor bearings, pulleys, belts, couplings or motor shaft seals to wear out, leak or need replacing. Nirvana will lower your operating costs with its dynamic efficiency. Nirvana Oil-Free offers truly transcendent technology.

Request a quote
When high air purity is a high priority
There's a lot riding on the quality of your air. The presence of particles, condensation, oil, and oil vapor in a compressed air system can lead to downtime, product spoilage and recall, damage to your brand reputation, or worse, harmed consumers and product liability.

No matter what industry or critical application, you can count on Ingersoll Rand to offer solutions that mitigate risk and ensure delivery of the highest air purity possible.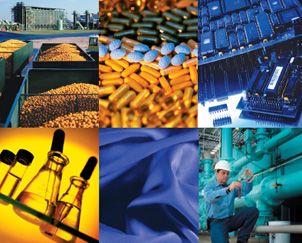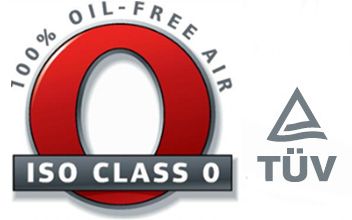 ISO Class 0 Certification
With an Ingersoll Rand oil-free compressor, you don't have to worry about contaminated air, regardless of the technology you choose. Our oil-free rotary-screw and centrifugal compressors were rigorously tested by TÜV Rheinland®—a global leader in independent testing and assessment services—and earned ISO 8573-1:2001 Class 0 certification.

Only Ingersoll Rand delivers ISO Class 0 in both rotary-screw and centrifugal technologies. Whether you're in food and beverage, pharmaceuticals, electronics, or any other critical application, count on Ingersoll Rand oil-free technology to deliver pure air and peace of mind.
Unleashing the full potential of variable-speed technology
While other VSD compressors also deliver stable pressure, soft-starting, and improved part-load efficiency over fixedspeed compressors, only Nirvana enables you to reach the full potential of variable-speed technology. With a Nirvana system, you get ultra-reliability and efficiency, virtually maintenance-free operation, unlimited starts and stops, and peace of mind knowing your air is 100% pure.

Our

Hybrid Permanent Magnet Motor (HPM)

means 100% maintenance-free HPM motor with no bearings, pulleys, belts or couplings to wear out. Provides virtually unlimited starts and stops.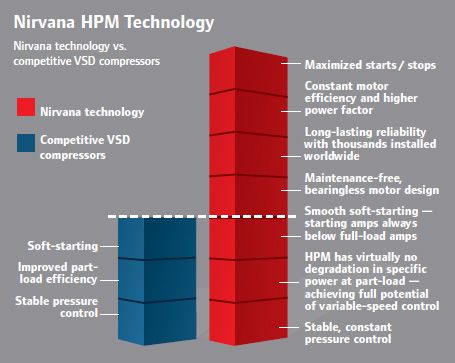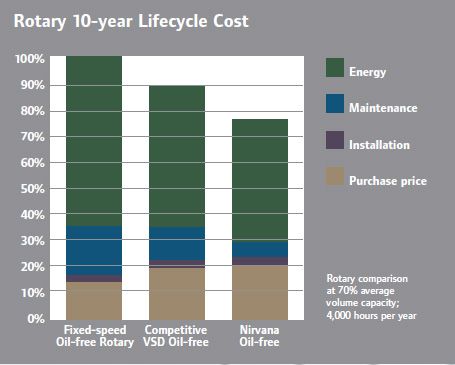 Built to Save Energy
Nirvana HPM motor requires significantly less power at start-up, never operates at more than full-load amps and shuts down at minimum speed reducing wasted energy. Energy costs can be as much as 60% of the lifecycle cost of an air compressor.
Reliable workhorse
Rugged reliability. Designed for continuous operation at temperatures up to 46ºC (115ºF). Its rugged design sets the standard for efficiency and durability. With an Ingersoll Rand oil-free rotaryscrew compressor in your operation, you benefit from knowing you can run 24 / 7 with virtually no downtime.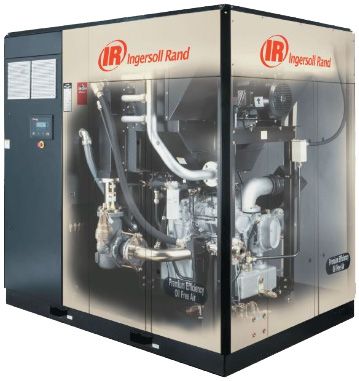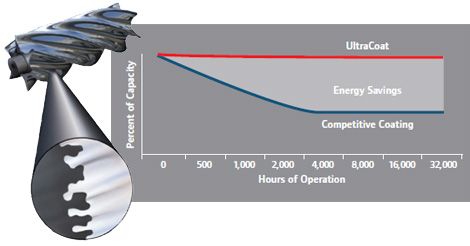 Advanced Ultracoat Protection
Molecularly-bonded UltraCoat coating on rotors and air passages delivers increased uptime and reduced energy costs. Compressor rotors take a beating. Over time their surfaces can deteriorate, making rotors increasingly susceptible to compressed air impurities and temperature fluctuation, which lead to reduced efficiency, decreased air purity, and compressor failure.

Ingersoll Rand eliminates this problem with UltraCoat, an advanced rotor and housing protection process that ensures the most durable coating, with unmatched adhesion and temperature resistance.
Triple Inlet Cooler
Eliminates the need for an expensive pre-cooler and maintains the optimum cooler operating temperature. Ingersoll Rand uses hydraulic valve actuation instead of pneumatic controls. This eliminates the need for periodic diaphragm replacement, preventing unnecessary downtime and maintenance costs. Air or water-cooled options available.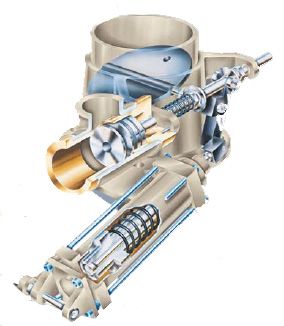 Distribuidor oficial: