ARO Series Diaphragm Pumps
ARO Series Diaphragm Pumps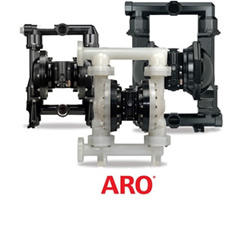 Expert Series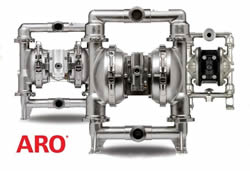 FDA Compliant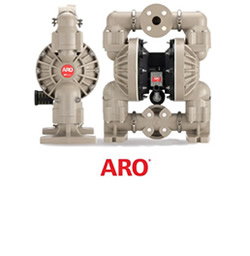 PRO Series
Everything you need, nothing you don't
Proven performance and backed by an industry leading 5-year warranty, ARO air operated diaphragm pumps are a truly versatile fluid handling solution for numerous applications. Known for industry-leading efficiency, reliability, and flow rates, and a large range of materials and porting, ARO has the right pump to deliver consistency in the most demanding situations.

ARO range of air operated diaphragm pumps offers many materials of construction. Our metallic offering consists of aluminum, cast iron, stainless steel and hastelloy®. Our non-metallic offering consists of polypropylene, acetal and PDVF. All ARO pumps are available with convoluted diaphragms offering long product life and reduced maintenance.
provides stall-free, ice-free operation
patented "Unstallable" unbalanced air valve design avoids stalling issues associated with other pumps
"quick-dump" exhaust valves divert cold exhaust air from ice-prone components, preventing freezing
five-year warranty, the most reliable pump line on the market today
Find your EXP opportunity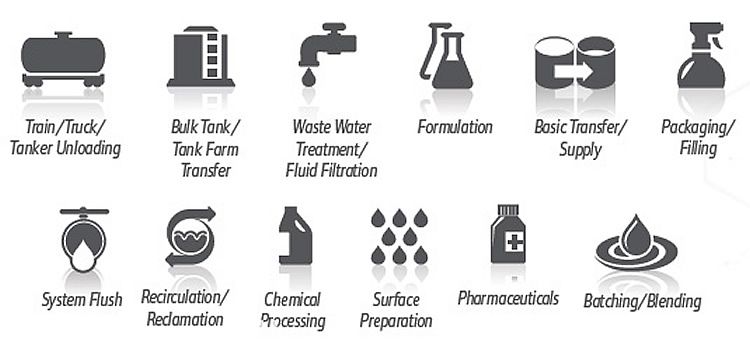 Seamless design
Explosion-proof
Low material shear
Ease of maintenance
Can run dry with no damage
Portátil
Portable
Self priming
Air operated diaphragm pumps are designed for general use. They can easily pump from clean, light viscosity fluids to corrosive, abrasive medium viscosity fluids and can transfer large particles without damage. Due to their pneumatic motor, they could be used in potentially explosive areas. Most of the ARO® diaphragm pumps are ATEX certified (CE Ex11 2GD X).

These pumps offer the ability to vary the flow outlet and discharge pressure as slow as 0.26 gallons (1liter) per minute up to 275 gallons (1041 liter) per minute for our larger sizes and adjust fluid pressure up to 125 p.si. (8.6 bar), by using just an air filter / regulator and a needle valve

Metallic:
Aluminium
Cast iron
Stainless steel
Hastelloy®
Non-metallic:
Polypropylene
Acetal
PDVF
Ceramic
Sanitary porcalain and coats production
Barbotine pumping, porcelain enamel, wastewater, slurry for filters press etc
Inks and Coats (ATEX)
Ink pumping, resins pumping, solvents pumping, adictives and biocides etc.
Mining
AODDP pump for high concentration of solids and general minerals
Water treatment
Dosing AODDP pump for chemicals, slurry pumping, filter press feed, etc.
General Chemical Industry
AODDP dosing pump for raw material
AODDP pump for tank transfer, feed packing machines
AODDP pump for Water treatment
AODDP pump for CIP solutions
OiL & Gas (onshore / offshore)
Cleaning ship's ballast tank and ship's decks
AODDP pump for fuel, sea water, Oils, Lube Oils, etc.
Dangerous Chemicals
AODDP dosing pump for amonia, hydrochloric acid, sulfuric acid, phosforic acid, gasoline, diesel, ethanol, slurries, coatings, etc.