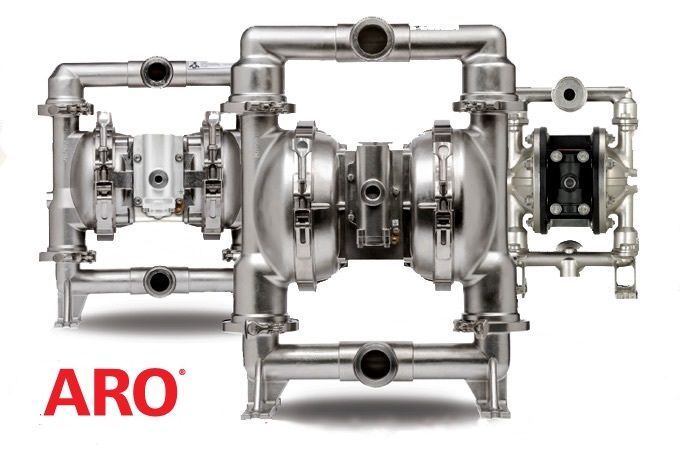 ARO´s FDA-compliant pumps, part of Expert Series (EXP) line are designed to transfer fluids for food and beverage industries efficiently and safely. Tipically our pumps yield 20 to 30% better flow rates than other products available on market, ensuring materials to be trasnferred carefully. Since every ounce of fluid is treated gently, shelf life is often extended and product quality kept on high performance.

Waste Water Handling Packing
Transfer and Batching
Abrasive media and solids
Acids, alcohols, caustics, solvents
Beverages
Health products
Personal care products
Pet food
Purees and sauces
Filter Press Feed
Receiving / Unloading
Additives
Chemicals
Ingredients
Quick Knock Down (QKD) compression clamp system to facilitate easier cleaning, service, and maintenance.
EXPert Series (EXP) pump
Industry leading total cost of operation, better flow rates and higher reliability. As an expansion of the EXP Series of dual diaphragm pumps, ARO® now offers plant managers and maintenance engineers a reliable choice for sanitary applications.
Compression clamp band design
Faster cleaning, service, and maintenance. Quick knock down (QKD) design facilitates rapid disassembly (and re-assembly) of components for inspection and maintenance – in place or out of place – and right back into service.
Center bodies available in stainless steel or Polypropylene
Stainless center bodies: Provide durable / reliable construction compliant with FDA environments.
Polypropylene Center Bodies: Lighter and chemically compatible for the most caustic environments.
Flow-rate optimized
Better overall performance, low material shear. ARO EXP Series design yields 20-30% better flow rate than competitors and ensures the material is transferred unharmed.
Electropolish stainless-steel 316L construction
FDA compliance and high temperature capability. FDA compliant materials help ensure product purity and easy clean out. Exclusive 316L ball valve permits higher temperature operation.
Optional electronic interface capability
Can be configured to allow control via controler, PC or PLC.